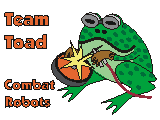 Team Toad: Avalanche 2
Home | News | Team | Robots > Avalanche > Avalanche 2 | Events | Research | Stickers | Video | Links | Contact
---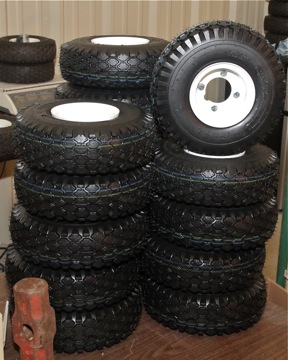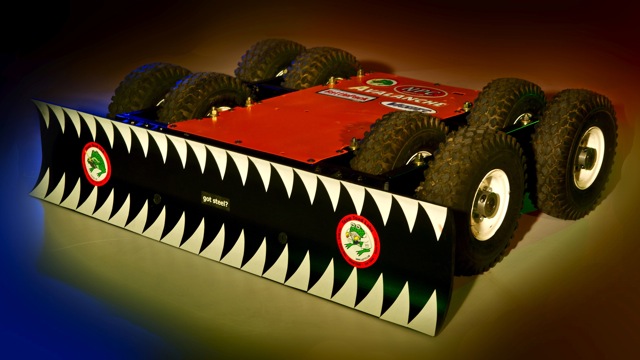 After getting skunked at Combots Cup 2009, we realized that articulating the plow blade from the middle of the robot looked great, but with the arms over 18 inches long, the weapon was too weak to defend against horizontal spinners.

During the design process, while trying to fit a half-ton linear actuator into the body, I had a crazy idea to to double up the tires (just like Ice Cube and Iceberg).

Eventually, we had to choose between eight wheels and having an actuated plow blade. So in the interest of being completely extreme, I put eight 10" NPC rubber tires on a heavyweight. It pushed really well, but an error in the chain-drive design allowed the axle bearings to shift as a result of box rushes or strong hits. When the bearings shifted the chains ran off the sprockets.

Oops. That meant that I lost 1/4 of the drive in a close match over DXTer, and two wheels on the same side against The Great Pumpkin.

Saturday night I took the whole robot apart and welded the bearing mounts in place. Things worked great during the third fight (a knockout over Pummel Bug), but in the fourth fight one of the drive sprockets broke toward the end of the fight.

In the end, the design was great at pushing, but whenever I locked up with an opponent they would just back away faster than Avalanche could go.
Specifications
Four 36V NiCad BattlePacks
Two NPC T74 drive motors
One-stage bowtie chain reduction driving eight 10" NPC tires
40" AR400 steel plow blade (the last one left from our BattleBots builds
Vantec RDFR 47e speed control
Match History
Win over DXTer
Loss to The Great Pumpkin
Win over Pummel Bug
Loss to Vise Crypt
---
Home | News | Team | Robots | Events | Research | Stickers | Video | Links | Contact
Last updated 19-Sep-2011