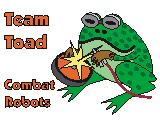 Team Toad: FurbyBot
Home | News | Team | Robots > FurbyBot | Events | Research | Stickers | Video | Links | Contact
---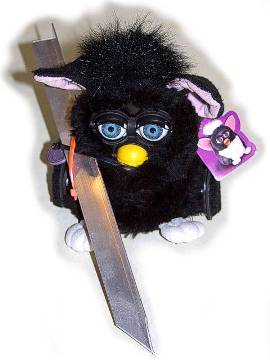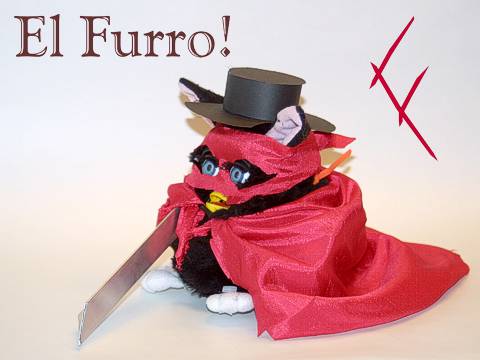 This page describes FurbyBot, Jacey's antweight for HSRC'02.
(12-March-2002) We are buying a Team Toad ad in the next BattleBots magazine, and we're including all our NERC robots in the ad: a photo of the Toad Fleet. We ran into a legal snag; FurbyBot can't be in the photo because of TradeMark issues. Poor Furby didn't take the rejection well, and he ran off into the girls closet screaming something like, "Beware Evil Trademark Giants Everywhere!".
So from now on, he will be known as "El Furro".

(26-Jan-02) FurbyBot was original built as a target bot, destined to be destroyed by Mini-Mauler at a demonstration at CJRC'01. Even though it was an alternate, Mini-Mauler wound up competing officially, so FurbyBot was spared from annihilation. When the unofficial rumble was announced, we quickly sharpened a piece of aluminum and strapped it to the FurbyBot's side. Robert Everhart, Jr. (from Team Half-Life) was recruited to drive, and surprisingly the plucky little critter was the second to last robot pushed from the platform.
FurbyBot returns in 2002 as an official Ant weight combatant.
Robot: "El Furro"
Weight Class: Ant weight.
Weight: 0.82 pounds
Physical Specs: 6.0" wide, 11.0" long (with spear), 6.0" tall, with 0.2" ground clearance. Offensive system: 11.0" long 6061 aluminum angle spear, used as a wedge.
Defensive system: 0.25" thick black simulated animal fur, over a 0.03" polystyrene shell.
Navigation System: Futaba FP-R148DP 8 channel micro receiver operating on 75 MHz, controlled via PCM1024 modulation from an 8UAPS 8 channel radio transmitter.
Drive System: two custom-made fur-covered rubber disks 2.0" in diameter, driven by a pair of Futaba S3001 servos, modified for continuous rotation.
Awards: Third place, unofficial rumble, CJRC'01
Back to TeamToad BattleBots Home Page
---



Home | News | Team | Robots | Events | Research | Stickers | Video | Links | Contact

Last updated 12-March-2002