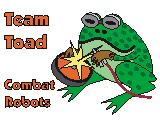 Team Toad: IceBerg
Home | News | Team | Robots > IceBerg | Events | Research | Stickers | Video | Links | Contact
---
IceBerg is Team Toad's superheavyweight robot.
Match History
4 wins (including 1 knock out), 2 losses
TI May 2001: lost to The Judge
TI Nov 2001: win versus Sharp Tooth
TI Nov 2001: KO against Half-Gassed
TI Nov 2001: win versus Bucky the Beaverbot
TI Nov 2001: win versus No Apologies
TI Nov 2001: lost to Little Blue Engine in the SHW quarter-finals.
Pneumatics
IceBerg's 1 and 2 used a CO2 based pneumatic cylinder to power the lifting action on the plow blade. Read more about IceBerg's Pneumatics here.
---



Home | News | Team | Robots | Events | Research | Stickers | Video | Links | Contact

Last updated 16-May-2002