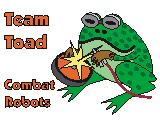 Team Toad: Ice Cube
Home | News | Team | Robots > Ice Cube | Events | Research | Stickers | Video | Links | Contact
---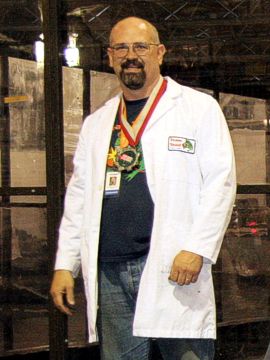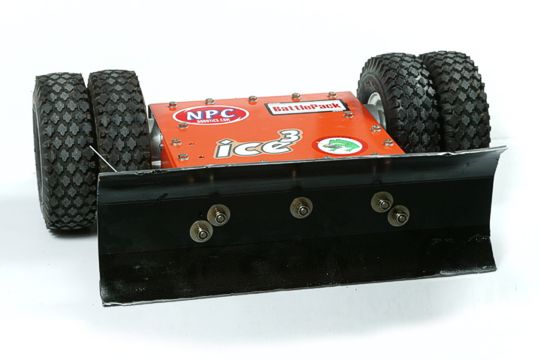 Ice Cube 3 is the 2006 RFL National Middleweight Champion!
---
June 15th, 2008
Ice Cube came in tied for 7th at RoboGames 2008, with a record of 2 wins and 2 losses. Details are in our Robogames 2008 trip report.
---
August 12th, 2006
We had so much fun at Battle Beach, we decided to take a robot out to Fort Mason to see what kind of a show Judge Dave was putting on.
Since all three kids are now teenagers with lives and friends, we decided to focus on one robot (and then we brought an antweight for grins).
Our first thought was Lionheart, which has our best record, but Lionheart was pretty well trashed at Battle Beach. Plus we found out in May that Dan would not be able to come to San Francisco for the event.
Given the surprisingly good performance of Ice Cube at Battle Beach, and the fact that Kelsey really didn't want to drive it, Fuzzy decided to take over Ice Cube. The first step was to repaint it from Team Crystal Blue to Team Toad Orange.
Since Killjoy and Brainstorm had seriously tweaked the original Ice Cube frame, Fuzzy spent a couple of weeks welding a new frame from scratch.
Using lessons learned from previous matches, the new frame was welded in front with extra steel for strength, but the back was merely bolted on to allow rapid changing of the NPC T-64 motors.
We had ordered a new blade for Ice Cube in the summer of 2002 for what would have been Season 6 of BattleBots. This blade was made of 1/4" AR-400 steel (AR stands for Abrasion Resistant). This blade was used for our events at the Robot Club and Grille, and stood up very well at Battle Beach.
The other big change was to move the batteries from between the motors to behind the plow blade, below the Vantec. That lowered the center of gravity and moved it forward. This change meant we could eliminate the spring steel hoop, move the wheels back, and keep rubber on the ground throughout the entire range of motion.
Finishing touches learned from many years in the arena included mounting the batteries, electronics and Vantec using varying thicknesses of adhesive-backed foam rubber, and upgrading to the newer Team Whyachi Switches. Even though we've never had a switch failure on Ice Cube, we had the Hella Main Power switch on Lionheart fail at Battle Beach, and the Futaba Radio Power switch failed on Half Pipe.
Testing in the shop in the 12'x12' Toad Tank proved that the third version of Ice Cube could still rock itself off the nose, drove forward at full power without popping a wheelie, and could self-right by driving backward and then rapidly switching to forward.
What was unknown was whther the rebuilt Ice Cube was able to take hits like the older version.
---
Ice Cube took second place at RoboGames 2006, validating our faith in this five year old robot design.
And to cap off the year, Ice Cube went 2-0 to at the 2006 RFL Nationals, beating Lionheart and Lunatic to become the 2006 RFL Middleweight National Champion.
---



Home | News | Team | Robots | Events | Research | Stickers | Video | Links | Contact

Last updated 12-Aug-2006