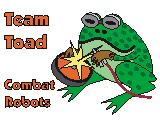 Team Toad: Tadpole
Home | News | Team | Robots > Tadpole | Events | Research | Stickers | Video | Links | Contact
---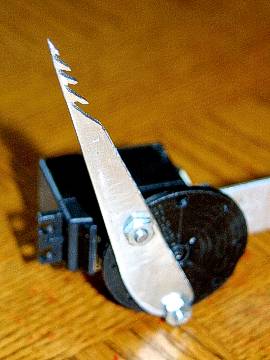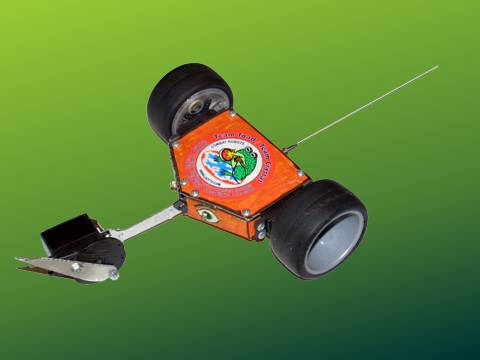 This page describes Tadpole, Fuzzy's antweight, and Team Toad's best performing robot. Twice the NERC Champion at Chicago and CJRC, with an 11-2 overall record.
For information on building your own antweight, see these links:
---

(23-Jun-2002) TadPole is Team Toad's most successful robot, wining two championships in 2001. TadPole strikes terror into its opponents: first it mesmerizes them with its two blinking green eyes, then it lifts and flips the other bot with the carved barbs on its titanium lifting spike. For 2002, TadPole features larger and wider racing slick tires, and a higher voltage miniature battery pack supplied by Robotic Power.
Robot: TadPole
Weight Class: Ant weight
Weight: 0.99 pounds
Physical Specs: 8.5" wide, 10.0" long, 3.0" tall, with 0.6" ground clearance.
Offensive system: Titanium lifting spike actuated by a Futaba S9402 high speed coreless BB servo with over 110 oz-in of torque.
Defensive system: body is a laminate of cellulose and 0.025" aluminum sheeting.
Navigation System: Futaba FP-R148DP 8 channel micro receiver operating on 75 MHz, controlled via PCM1024 modulation from an 8UAPS 8 channel radio transmitter.
Drive System: Two 74mm HPI super-size racing slick tires driven by S9402 high speed coreless BB servos modified for continuous rotation, and running with a custom 6.0 volt NiMH battery pack.
Sponsors: Robotic Power (battlepack.com)
Win Record: 11 wins, 2 losses.
Awards: First place at iHXRC'01 and CJRC'01.
Cost
Hi speed digital servos, three at $100: $300
Futaba microreceiver, converted to 75 MHz by Vantec: $200
6.0 volt NiMH battery pack: free from sponsor
HPI racing slicks and hubs: $18
Dean's antenna from Team Delta: $11
Futaba mini-switch harness and charging cord: $9
Two blinking green LEDs: $4

Total cost: $542
Two first place trophies: priceless
---

(22-Jun-02) El Furro! and TadPole were invited to participate in the BattleAnts competition held at BattleBots last May.
The two bots shared accomodation in a neat aluminum briefcase from Home Depot ($25). With custom foam rubber inserts, the two bots arrived safely in San Francisco.


TadPole drew Tsunami, built by Peter Abrahamson and driven by Mark Setrakian. Although TadPole was able to get underneath Tsunami and drag him most of the way to the Kill Saw, Mark outdrove me and it was TadPole who went flying. The photo on the right shows the saw marks on the bottom.
We lost, but we did validate our choice of aluminum as the main armor for TadPole's body.
---

(23-Mar-02) For HSRC'02, we decided to upgrade the wheels on TadPole. The original tires were toy car wheels covered in latex rubber bands.
For March, we got Fantom hubs and 74mm racing slicks from Tower Hobbies. To mount them to the hacked servos, we cut a couple of 3" disks out of 1/16" Lexan, and glued a servo horn to each with cyanoacrylate (Super Glue). We cut the spokes out of the hubs, and glued the disks to the side.
The resulting wheels have grippy rubber tires that are replaceable. They also get even softer when we apply traction compound (oil of wintergreen).
At HSRC, TadPole won two fights before losing to Zip Tie Bot (which is actually constructed of duct tape). Since the ants were reduced to single elimination to make room for more 30 pounders, TadPole didn't get a second chance.
---

(29-Sep-01) For CJRC, we made a few tweaks to TadPole's design. First, we made the nose boom 1/2" longer, and flipped the rear servos around to move the wheels back 1/2". The result is to move the center of gravity farther away from the lifter, to allow TadPole to lift a whole pound without picking up the back wheels up.
We also made the lifting arm stronger, lighter, and sharper. We replaced the 7075 aluminum spike with a 6-4 titanium blade, and carved barbs in it with a Dremel. The photo at the top left shows a closeup.
Finally, we put two blinking green LED power indicators in the eyes, a battery charging plug that retracts into the body, and a power switch in the back. In Chicago, we had to take out and replace 6 screws to take the top off and on, just to plug in the battery. For CJRC, we could just plug it in between rounds, and could be ready to fight in 20 seconds, instead of 4 minutes.
---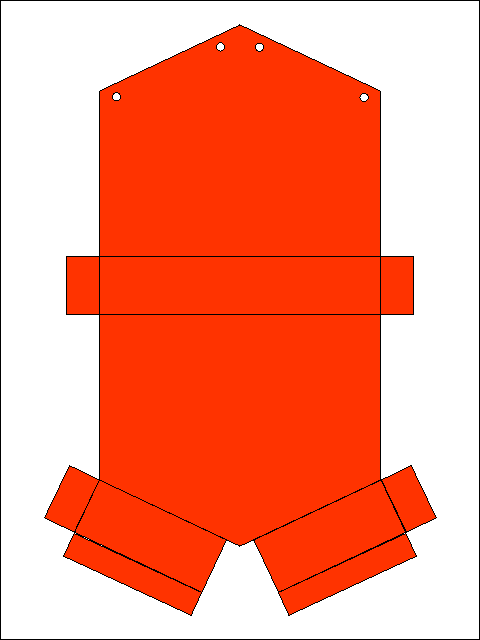 (7-Sep-01) We've kept TadPole under wraps until now...we can reveal that TadPole uses Futaba digital coreless servos with over 100 oz-inches of torque, with a lifting arm made of 7075 aluminum. TadPole is packed and ready for Chicago. The photo to the left shows TadPole ready for action.
To the right you can see the template for the body. We printed that template out on full page label paper, and stuck that on a sheet of 0.050" aluminum. Then we cut the shape out with tin snips. Rather than try to remove the sticker paper from the metal, we left it there, hoping to fool people into thinking that TadPole was armored with cardboard.
---


(6-Aug-01) Over the weekend we built two antweight prototypes of TadPole. As you can see, we're leaning to a two-wheeled servo-driven configuration with a front-mounted moveable spike. If you click on the photo to the right, you'll see a 4.8 mb MPEG video of our first antweight fight at home.
---
Hi Res photos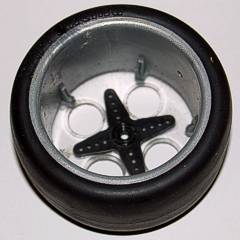 Back to TeamToad BattleBots Home Page
---



Home | News | Team | Robots | Events | Research | Stickers | Video | Links | Contact

Last updated 23-Jun-2002