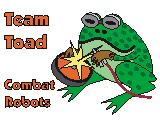 Team Toad: HalfPipe
Home | News | Team | Robots > HalfPipe | Events | Research | Stickers | Video | Links | Contact
---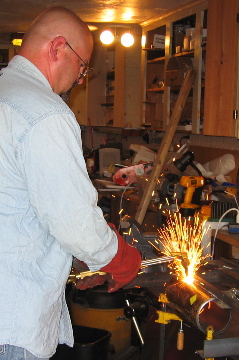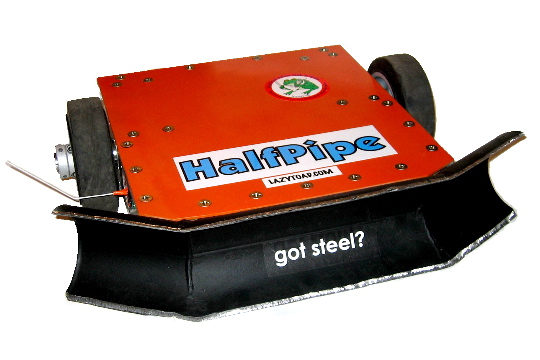 (16-Sep-2003) Finally got a full outdoor test drive done today, and found our typical medium-sized robot radio problem...limited range. We applied our standard fix of using a two inch circle of plastic to to mount the antenna in the middle of a 2" hole in the side. That tripled the radio range and we're ready to fight.

Like LionHeart, its bigger sibling, HalfPipe features a charging jack behind a small panel on the side of the robot. That allows us to plug it into our new charging station without opening the whole robot.

(12-Sep-2003) Construction is complete...we even had time to paint it. The good news is that I can keep the nose down without putting extra stuff on the back to hold it down. Don't have enough room in the garage to really test it well, but it's done in time to test this weekend.
(9-Sep-2003) Our lightweight robot SnowFlake qualified for the Triangle Series Nationals by winning the RC&G March event, In Like a Lion. But since SnowFlake is a BattleBots licensed robot, we needed a new lightweight to take up the challenge.

We borrowed the drivetrain design from Lionheart, our highly successful middleweight. The heart of this system is the Team Whyachi 8-1 gearbox for the 3" MagMotor. Whereas Lionheart uses the long MagMotors, HalfPipe makes do with the shorty MagMotors (the S28-150). Two 3600 mAhr 24V BattlePacks provide electrical power, and a Vantec RDFR33 controls the power. We use 6"x2" Colson black rubber wheels with Team Delta 1" bore hubs. Radio control comes from our trusty Futaba 8UAPS PCM system.
We first thought of having a Lionheart-styled razor-wedge nose, but since this robot is supposed to have the same weapon type as SnowFlake, and since I had this huge piece of black pipe sitting in the garage, I decided to try making my own plow (our larger robots and IceBerg sported custom-made steel plow blades fabricated by Westmoreland Steel, Inc.).
Grabbing the trusty oxyacetylene torch, I cut the pipe in half (hence the name), and then cut one half into two agin. A few angle cuts, and we have a cow-catcher style pipe welded together. The plow weights 8.8 pounds, and is made from roughly quarter-inch steel.
Last night I cut the top and bottom plates from 6061 Aluminum, and today's task is to cut the sides from 3" aluminum channel and attach the plow to the body.
My goal is to be ready for drive testing this weekend, and have a few days before we through everything in the Durango and drive to Minnesota on Thursday.
---



Home | News | Team | Robots | Events | Research | Stickers | Video | Links | Contact

Last updated 16-Sep-2003